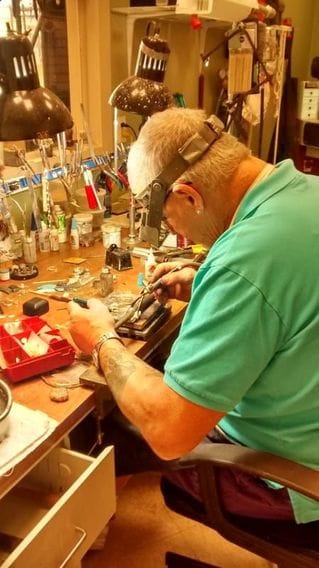 BILLY LACY CREATES THE MOST BEAUTIFUL AND UNUSUAL WEARABLE ART FROM HIS STUDIO . HIS CREATIONS START WITH RAW STONES OF TURQUOISE OR OTHER NATURAL MINERALS, CARVED INTO TRADITIONAL OR CONTEMPORARY STYLES . THE STONES ARE SET INTO GOLD, STERLING SILVER, PLATINUM OR TITANIUM AND TURNED INTO BEAUTIFUL RINGS, BRACELETS, NECKLACES OR EARRINGS. EACH PIECE IS CAREFULLY CREATED TO HIS AND HIS CUSTOMERS SPECIFICATIONS. BILLY ALSO CREATES CONTEMPORARY DIAMOND AND PRECIOUS STONE PIECES USING THE SAME INDIVIDUAL APPROACH. ENJOY THE BEAUTY AND BOLDNESS OF TRADITIONAL AND CONTEMPORARY JEWELRY BY ARTIST BILLY LACY. WEARABLE ART IN THE BILLY LACY TRADITION.
---
​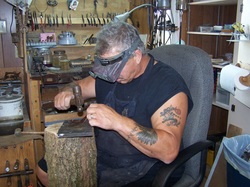 Billy working on a custom piece for a custo​mer. He also does repairs on all kinds of jewelry, including stone replacement, ring and bracelet sizing, new tips on diamond rings, and anything else that you need done to your jewelry both Native American and contemporary styles.
---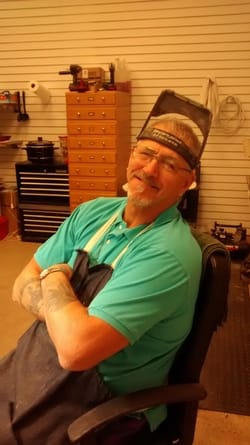 Billy opened his studio in 1993 basically doing jewelry repairs for neighbors and friends.
Since that time he has created some of the most unique jewelry and metal works both in traditional Native American and contemporary designs. Most of his designs start with a drawing and from there he uses the uniqueness of the stone he is working with to create the piece. Billy will sit down with his customers and create that perfect piece to your specifications. Billy has won ribbons and award at several art shows including the Manatee Festival in Florida, Best New Artist and Best in Show at Indian Summer in Milwaukee Wisconsin and Second Place at Rancocus Indian Art Festival in New Jersey to mention a few.

Call Billy today at 575 84 5599 to have that special piece created for you. You can also visit his studio at his home in Truth or Consequences, New Mexico, where his beautiful jewelry is currently being created or e-mail us at.BILLYLACYSTUDIO58@ YAHOO.COM or sharon47arthur@hotmail.com. Billy also does repair work on all kinds of jewelry, including stone replacement, ring sizing and just about anything you need done to your jewelry.
---